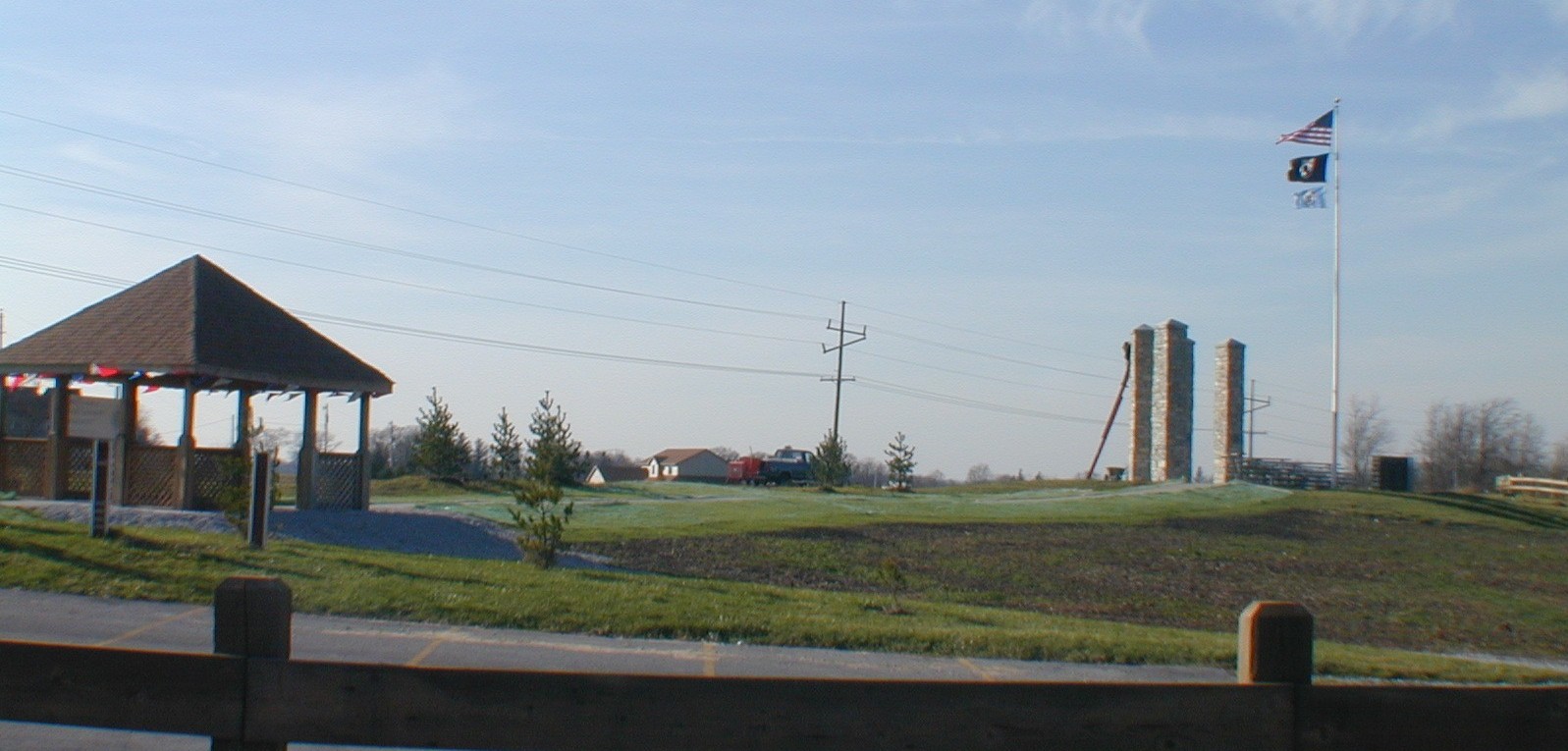 Through a generous donation from Robert and Patricia Ross, the Veterans Memorial Parkway Commission was deeded a two-acre parcel of property for use as a future memorial a the intersection of Grand Blvd. and 145th Avenue just east of Leroy.

After securing the property, the Commission decided that a memorial to the Lake County Korean Veterans was in order since the Vietnam Memorial was only two miles away, and that the location was conducive to the overall vision of chronological memorials along the Parkway.

There was also a resounding consensus that proper dedication to those who served in the Korean War, as well as those who continue to keep the peace between North and South Korea, was well overdue.
The monument as dedicated on November 15, 2003 includes five, 18-foot tall limestone columns for each of the Armed Forces, a central flagpole and monument wall with the names of the 101 soldiers from Lake County who gave the ultimate sacrifice. The rest of the two acre-site involves a walking path, parking lot, shelter and a one-acre restored prairie.
The Friends of the Parkway are indebted to those who have donated towards the completion of this monument. In particular, the Friends would like to thank the following for their significant contributions over the years: John Curley, Gerry Scheub, Larry Blanchard, Sue Landske, Roy Dominguez, Bernard Carter, Ziese Excavating, Hubinger Landscaping, Kitt & Troy Kabella, Tim Sova and Lowell Boy Scouts, Jeff Swan - Walsh & Kelly, DAV Chapter 80, American Legion Posts 20 and 168, Ozinga Concrete, NIPSCO, Masons & Plasterers Local 165, Bricklayers Union 4, Prestige Custom Stone, Lake County Parks & Recreation Department, Lake County Council, Waste Management, The Community Hospital & The City of Crown Point - James D. Metros, Mayor.